Pole dance combos-Intermédiaire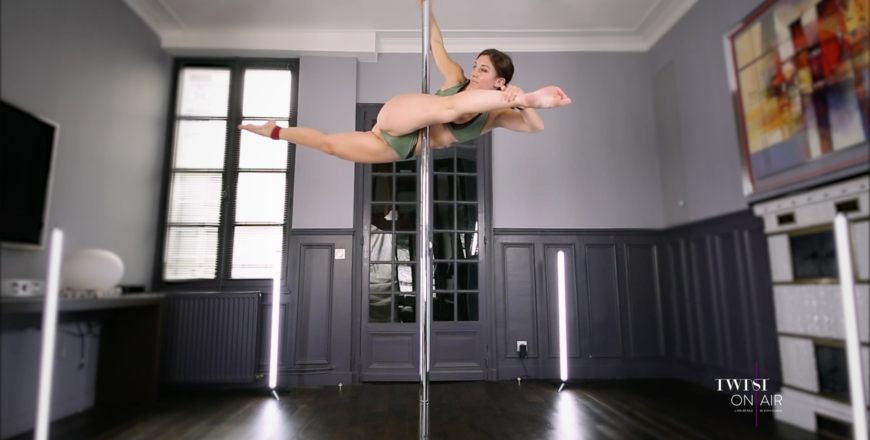 Vous trouverez ici des exemples de combos de spins et de tricks, n'hésitez pas à les travailler une fois les figures maîtrisées ! Vous pourrez travailler les combos en static ou spinning mode pour la plupart. Vous pourrez apercevoir deux brassards rouges qui représentent le côté gauche du corps (main, pied) pour vous aider à mieux vous repérer et mieux comprendre les enchainements.
1
Combo spins 1 (Jenyne spin, Dislocator to V…)
2
Combo spins 2 (Helicopter, Outside leg, Butterfly…)
3
Combo spins 3 (Rockstar, back hook…)
4
Combo spins 4 (Dislocator to Fireman, Side spin…)
5
Combo tricks 5 (leg switchs, superman…)
6
Combo tricks 6 (Side climb, Back V, bird…)
7
Combo tricks 7 (Jamilla, butterfly, Caterpillar…)
8
Combo tricks 8 (Chopsticks, Wrist seat, Bird…)
9
Combo tricks 9 (Batman, Allegra, Butterfly…)
10
Combo tricks 10 (French fireman, Broken doll, Jallegra…)
11
Combo tricks 11 (Jamilla to Inside leg, Duchess, Handstand…)
12
Combo tricks 12 (Teddy to V, Cross knee release, Bow and arrow)
13
Combo tricks 13 (Elbow grip)
14
Combo spins/tricks 14 : Oona spin (Dislocator, V, Butterfly, Ayesha…)
15
Combo 15 static (Jamilla, fish, forearm stand…)
16
Combo spinning tricks 16 (Skater climb, Batman, Triangle knot)
18
Combo spinning tricks 18 (advanced wrist seat, hood ornament, split…)
19
Combo spinning tricks 19 (Rockstar, wrist seat, split..)
Soyez le premier à ajouter une critique.