Pole dance combo static inter/advanced : Audrey Lebrun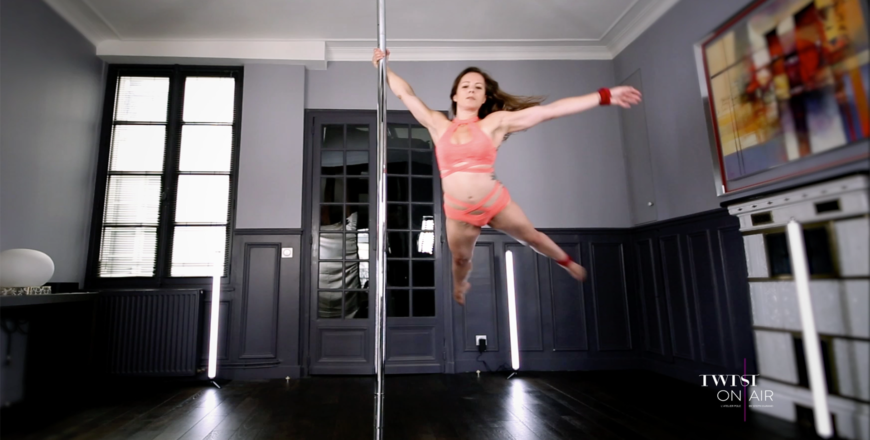 Check out one of Audrey's favorite combos, learn at your own pace, step by step the Hand climb, tumbles, drops and other dynamic acrobatics.
Audrey discovered pole dance in 2010 by watching a video of the 2009 American championships (miss Pole Dance USA). It was a revelation; the mix of acrobatics, strength and dance transported her immediately.
She started lessons in one of the first schools in Paris where she trained to become a coach in 2011.
In 2013 she decided to continue her training at Pole Dance Paris with Mariana Baum.
In 2014 she was certified as an XPERT Pole fitness instructor level 1/2/3/4.
After having taught in many studios, she decided to open Pole & Motion as a co-manager and then as a sole manager since 2019
Strong of dynamism and pedagogy, her goal will be to motivate you to surpass yourself, progress and give the best of yourself while having fun.
Her titles :
World Pole Art Championship 2019  Finalist
Exotic Goddess Roma 2019  3rd (Double Category)
French Championship 2018 3rd
Pole Dance Nord Inter-Regional Championship, Senior Women Category 2018 1st place
Pole Theatre Paris, Classical/Pro Category 2017 with Steph Durand 1st place
Pole Theatre Switzerland, Drama/Pro (solo) 2017 Finalist
Pole Theatre UK 2016 Comedy Category with Steph Durand 1st place
Pole Theatre World 2016 Category Classical with Steph Durand Finalist
French Pole Dance Competition 2016 (Double Category with Steph Durand) 3rd place.
1
Combo static inter/avancé
Soyez le premier à ajouter une critique.