Pole dance combos-intermediate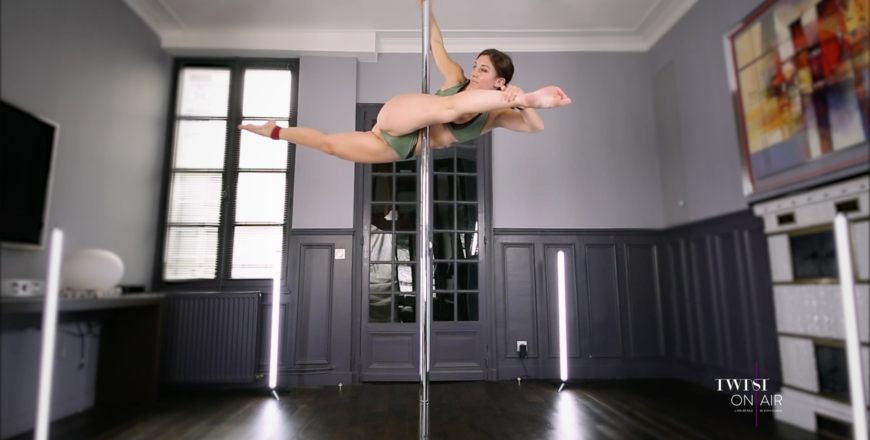 Here you will find examples of spins combinations and tricks, don't hesitate to work on them once you have mastered the tricks! You can work on the combos in static or spinning mode for the most part. You will see two red armbands representing the left side of the body (hand, foot) to help you to better locate and understand the sequences.

1
Combo spins 1 (Jenyne spin, Dislocator to V…)
2
Combo spins 2 (Helicopter, Outside leg, Butterfly…)
3
Combo spins 3 (Rockstar, back hook…)
4
Combo spins 4 (Dislocator to Fireman, Side spin…)
5
Combo tricks 5 (leg switchs, superman…)
6
Combo tricks 6 (Side climb, Back V, bird…)
7
Combo tricks 7 (Jamilla, butterfly, Caterpillar…)
8
Combo tricks 8 (Chopsticks, Wrist seat, Bird…)
9
Combo tricks 9 (Batman, Allegra, Butterfly…)
10
Combo tricks 10 (French fireman, Broken doll, Jallegra…)
11
Combo tricks 11 (Jamilla to Inside leg, Duchess, Handstand…)
12
Combo tricks 12 (Teddy to V, Cross knee release, Bow and arrow)
13
Combo tricks 13 (Elbow grip)
14
Combo spins/tricks 14 : Oona spin (Dislocator, V, Butterfly, Ayesha…)
15
Combo 15 static (Jamilla, fish, forearm stand…)
16
Combo spinning tricks 16 (Skater climb, Batman, Triangle knot)
18
combo spinning tricks 18 (advanced wrist seat, hood ornament, split…)
Soyez le premier à ajouter une critique.