En tête-à-tête avec Natasha Wang
29 août 2021

Publié par :

Stéphanie Durand

Catégorie :

Non classifié(e)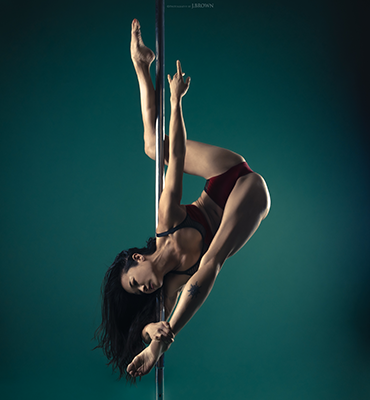 (English version below)
Voici la première interview d'une guest et championne qui vient des U.S sur Twist On Air, j'ai l'honneur de vous présenter (bien que l'on ne la présente plus!!) Natasha Wang, aussi connue sous le nom de Pole Cricket sur les réseaux, grande figure de la pole dance. Vous allez découvrir ses petits secrets et tout connaître de son parcours pour en arriver là.
Qui est Natasha ?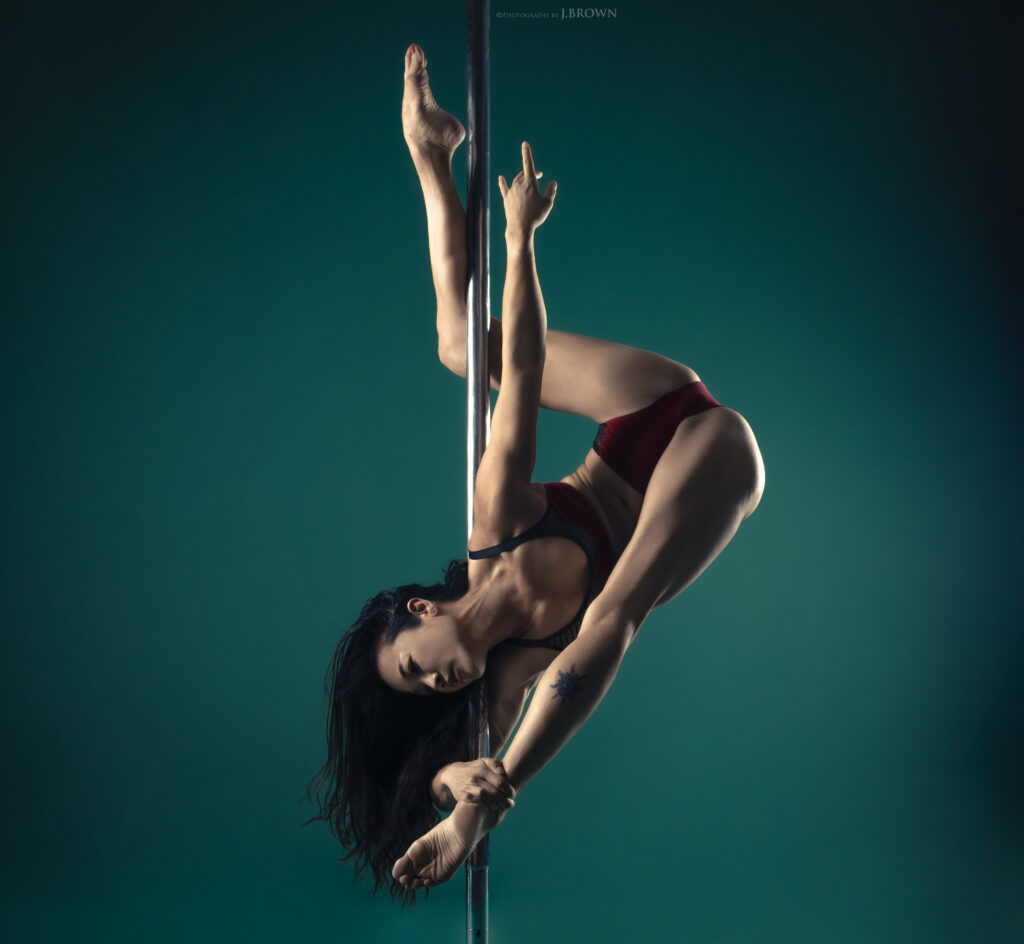 Natasha est l'une des icônes de la pole. Basée à L.A en Californie et née au Texas (Austin), elle parcourt le monde en tant que professeur de pole dance, performer et juge en compétition.
En tant que compétitrice, elle remporte de nombreux titres : "IPC Pole Art champion 2018", "IPC Ultimate champion 2013", "Pole Art 2012 Runner-up", "US Pole Dance Champion 2011", "USPDF West Coast Champion 2010", "California Pole Dance Champion 2010", "East Meets West Miss Pole-AM 2010".
En 2015, Natasha est nommée "IPDFA Instructor of the year", en 2014, elle remporte le prix "Female Performance artist of the year" et "Inspirational artist of the year" au Pole World News Awards.
En tant que performer et personnalité dans la pole, elle apparaît dans "The View" sur ABC, "Good Day L.A" sur FOX, "Amazing dance" et "Day day up", sur Hunan TV, l'émission télévisée numéro un en Chine. Natasha s'est également produite en Chine en tant qu'artiste solo, sur 30 spectacles au "China Rouge" situé au Galaxy Macau Hotel & Casino. EN 2011, elle joue dans le projet de théâtre d'art Doug Aitken "Black Mirror" avec l'actrice Chloé Sevigny, qui se produit d'abord à Athènes et Hydra en Grèce.
Natasha est une sportive sur le tard qui a suivi son premier cours de pole en 2006 à l'âge de 29 ans sans aucun passé en danse, gym ou fitness. Elle enseigne chez Be Spun à L.A et fait partie des guests dans l' "Open Dance Academy" (Complete pole et X-Pole TV.). Elle est aussi professeur formée de Yoga Ashtanga, Vinyasa et Yin Yoga, et est certifiée par Liquid Motion, Floor flow, Pole Moves, Vertical Art Athletics, X-Pert and ElevatED pour la pole et la souplesse. Elle est aussi ambassadrice chez X-Pole et MilaKrasna.
Diplômée de l'université du Texas à Austin, (en publicité et en français), Natasha a quitté une carrière de neuf ans dans les relations publiques en 2011 pour enseigner la pole à temps plein. Elle est également poétesse publiée et parle couramment Chinois et Français.
Comment a commencé ton histoire d'Amour avec la Pole ?
J'ai suivi mon premier cours de pole dance en 2006, à l'âge de 30 ans. Mon amie a vu qu'il y avait de la pole dans une émission télévisée, alors nous nous sommes inscrites à un cours d'initiation dans un studio local qui était très axé sur le côté sensuel de la pole et avait pour thème "Votre créature érotique". J'ai trouvé cela vraiment absurde ! J'y suis restée quand même, car à l'époque c'était mon seul sport, à part faire beaucoup trop la fête dans les clubs la nuit, ce que je faisais très souvent… J'avais besoin de changement dans ma vie et je voyais la pole (même si c'était surtout se rouler par terre et se toucher) comme un moyen de faire de l'exercice.
Quelle est ta figure préférée ?
J'aimerais toujours par dessus tout la beauté d'un grand écart parfait et complètement plat, mais récemment je me suis mise à essayer de recréer des mouvements de Yoga sur la pole. Mon obsession actuelle touche à touche à tout ce qui implique des "Eagle legs" (le fait d'imbriquer ses jambes autour de la pole, de faire des changements de jambes, comme une sorte de "Twizzler").
Ton point fort et ton point faible à la Pole ?
J'ai une bonne ouverture de hanches et des ischio-jambiers souples, je peux remercier mon père, grand pratiquant de Kung Fu pour ça ! Mon dos est cependant assez droit et raide dû à ma génétique et ma scoliose infantile, donc tout mouvement de flexion arrière ou du torsion du buste est difficile pour moi. Je ne me considère pas non plus comme une poleuse puissante et dynamique, je me vois plus comme une danseuse gracieuse et un peu paresseuse qui prend son temps pour aller d'un point A à un point B.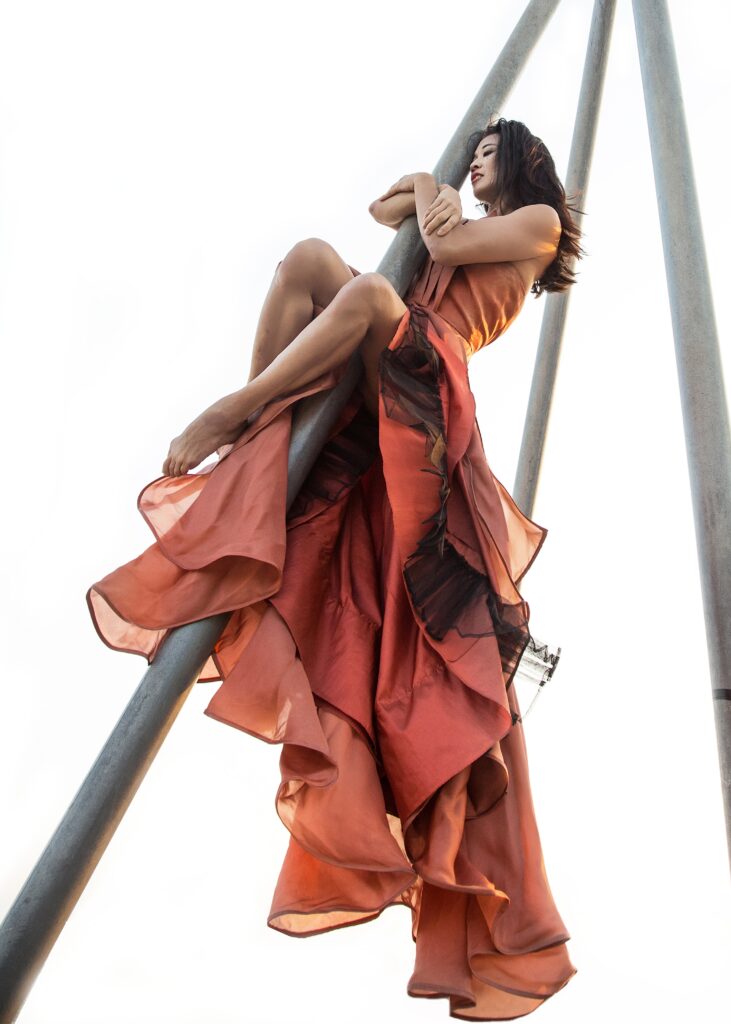 Ta tenue de sport préférée ?
Je vis en tenue de sport depuis bien avant que le Covid ne nous fasse transpirer 24H/24 et 7J/7 ! Athleta et Lululemon sont mes marques de prédilection pour les vêtements d'entrainements quotidiens. MilaKrasna est ma marque favorite pour la pole.
Ton morceau de musique idéal pour "Poler" ?
Je n'ai pas de morceau préféré, mais je sais que c'est le bon morceau au moment où je l'entends.
L'endroit où tu aimes sortir ?
Je suis vraiment plus active la journée, je grimpe, je cours, je travaille les équilibres au parc, ou je passe la journée à la plage. La plupart de mes soirées, je préfère les passer en "hibernant". Mon mari était DJ et producteur de musique pendant plus de 10 ans, alors à l'occasion, nous nous rendons à des soirées en plein air, mais à cause du Covid, nous avons plutôt fait profil bas l'année dernière.
Ton péché mignon ?
J'ai des plaisirs simples, la bonne nourriture, le vin et beaucoup de desserts !
Et si tu avais un super pouvoir, quel serait-il ?
J'aimerais tellement communiquer avec les animaux, parler leur langage et comprendre ce qu'ils pourraient me dire en retour. J'essaie de parler avec mes chats tout le temps mais avec peu de succès.
Ton conseil Pole dance ?
Ne vous précipitez pas ! Apprendre à faire un Rainbow Marchenko ou un Fonji ne va pas sauver le monde ! Je suis convaincue d'avoir pu faire ces 16 années de pole sans grosses blessures car j'ai pris mon temps et progressé doucement et intelligemment. J'ai toujours écouté mon corps quand il me disait de me reposer.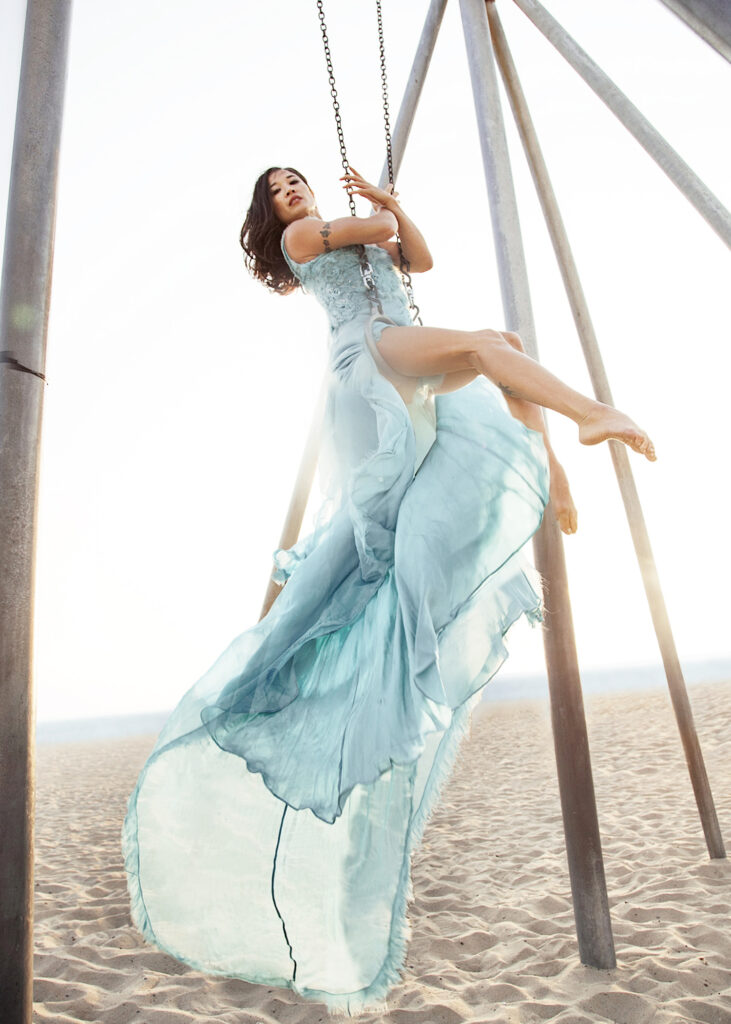 Tes conseils aux pole dancers qui nous lisent ?
Soyez curieux des origines de ce sport que vous aimez tant et respectez le chemin tracé par ceux qui sont passés avant vous. Ecoutez vous les uns les autres, soyez ouverts aux changements et écoutez les expériences des autres. Prenez connaissance de vos privilèges et votre condition et aidez les personnes qui en ont besoin, à changer, et trouver leur voie pour qu'ils puissent connaître la même chance.
What next ?
Comme tout le monde en ce moment, mes plans à venir sont dictés par les caprices du variant Delta. Je vais enseigner à la "Pole Convention" en Nouvelle-Orléans, "Pole camp EU" à Bibione en Italie fin Septembre, et à "Pole in Paradise" à Honolulu, Hawaï à la mi-octobre. Mais vais-je reprendre la route après l'automne ? Qui sait ! Vais-je continuer à enseigner et diffuser mon amour pour la pole ? Absolument !
Je continue à enseigner virtuellement et j'ai aussi lancé une plateforme online, j'ai filmé une centaine de tutoriels, c'est comme une training pole à vie avec moi pour le prix d'un cours.
Merci beaucoup à Natasha Wang pour avoir répondu à mes questions.
Voici quelques liens pour la retrouver :
www.natashawang.com
Instagram : @polecricket
www.poleticamovement.com (50%off le premier mois avec le code POLETICA50)
Voici les liens des évènements où elle sera présente :
Pole convention : www.poleconvention.com
Pole Camp EU : www.polecamp.eu/en
Pole in Paradise : //www.facebook.com/FFGFitforaGoddess
---
English :
Here is the first interview of a guest from the U.S on Twist On Air ! Let me introduce you Natasha Wang AKA Pole cricket on social medias, she is an important figure and a famous champion in the pole world. You will discover her little secrets and how she managed to get where she is now.
Who is Natasha ?
Natasha Wang is one of the icons of pole. Based in Los Angeles, California and born and raised in Austin, Texas, Natasha travels the globe as an in-demand teacher, performer and competition judge.
As a competitive pole athlete, she has taken home the titles of IPC Pole Art Champion 2018, IPC Ultimate Champion 2013, Pole Art 2012 Runner-Up, US Pole Dance Champion 2011, USPDF West Coast Champion 2010, California Pole Dance Champion 2010, and East Meets West Miss Pole-AM 2010. In 2015, Natasha was named the IPDFA "Instructor of the Year", and in 2014, she won "Female Performance Artist of the Year" and "Inspirational Artist of the Year" at the PWN (Pole World News) Awards.
As a performer and pole personality, she has appeared on "The View" on ABC, "Good Day L.A." on FOX, "Amazing Dance" on Hunan TV, and "Day Day Up" on Hunan TV, China's #1 TV show with a viewership of over 300 million. Natasha has also performed across China as a solo artist, including a 30-show booking at China Rouge at the Galaxy Macau Hotel & Casino. In June 2011, Natasha performed with the Doug Aitken art-theater project "Black Mirror" starring actress Chloe Sevigny, which premiered in Athens and Hydra, Greece.
Natasha is a late fitness bloomer who took her first pole class in 2006 at the age of 29 with no prior dance, gymnastics or fitness training. Natasha instructs at BeSpun in Los Angeles, CA, and is a featured instructor with OpenDance Academy, Complete Pole and X-Pole TV. She is a 260-hour Registered Yoga Teacher in Ashtanga Vinyasa and Yin Yoga, and is certified by Liquid Motion L1 and L2, Floor Flow, Pole Moves, Vertical Art Athletics, X-Pert and elevatED for Pole and Flexibility. She is an ambassador for X-Pole and MilaKrasna.
A graduate of the University of Texas at Austin with a BS in Advertising and a BA in French, Natasha left a nine-year career in public relations in 2011 to teach and instruct full time. She is also a published poet and speaks fluent Chinese and French.
How did your love story with Pole Dancing begin ?
I took my first pole class in 2006 when I was 30. My friend saw pole dancing on Oprah, so we signed up for an intro class at a local studio that focused heavily on sensual movement and tapping into something called your "erotic creature." I thought it was utterly absurd! I stuck with it though, because at the time, it was my only exercise besides partying much too hard in the clubs, which I did often. I needed to turn my life around and saw pole movement – even if it was mostly rolling around on the floor and touching myself – as that gateway to exercise.
What is your favorite move ?
I will always love the beauty of a perfectly flat split, but recently I've been into re-creating yoga moves on the pole. My current obsession is anything involving Eagle Legs (a sort of wrapping your legs together like a Twizzler).
Your strong point and weak point on the Pole ?
I've got open hips and hamstrings, and can thank my Kung Fu dad for that. My back though, is rod-straight from genetics and childhood scoliosis, so any backbend or torso twist move is difficult for me. I also don't consider myself a powerful poler. I like to think I'm a graceful dancing sloth that likes to take her time getting from point A to point B.
Your favorite fitness clothing ?
I've been living in athleisure since way before Covid had us in sweats 24/7. Athleta and Lululemon are my go-to brands for daily workout wear; MilaKrasna is my favorite for pole.
Your ideal song for Pole Dancing ?
I don't have a specific ideal song, but I know it when I hear it.
Where do you like to go out in the evening ?
I'm most active during the day – I hike, run, do handstands at the park, or spend the day at the beach. Most evenings, I just want to hibernate. My husband was an electronic music DJ and producer for over 10 years, so on occasion we'll head out to an outdoor evening party, but because of Covid, we've been laying low for the past year.
What's your sinful pleasure ?
I have simple pleasures – good food, wine, lots and lots of desserts.
If you had a super power, what would it be ?
I would love to communicate with animals, and speak their language and understand what they're saying back to me. I practice those skills with my cats all the time with little success.
Your Pole tip ?
Don't rush the journey. Learning how to Rainbow Marchenko or Fonji isn't going to save the world. I'm convinced I've made it through 16 years of pole without major injuries because I've progressed slowly and intelligently and listened to my body when it told me to stop and rest.
Any specific(s) advice(s) for Pole Dancers ?
Learn about the origins of the sport you love so much, and respect those who paved the way before you. Listen to each other. Be open to change and listen to the lived experience of others. Acknowledge your privilege and give the space and understanding for others to change. Be kind.
What's next ?
Like everyone on this planet, my upcoming plans are dictated by the whims of Delta. I'm teaching at Pole Convention in New Orleans, Pole Camp EU in Bibione, Italy at the end of September, and Pole in Paradise in Honolulu, Hawaii in mid-October. But will I get back on the road after autumn? Who knows! Will I continue to teach and spread my love of pole? Absolutely!
However, I continue to teach virtually and just launched an on-demand platform called Poletica Movement. I've filmed over 100 tutorials so far, with new content going up every week. It's like a lifetime of pole training with me for the cost of one drop-in class.
A big thanks to Natasha for answering my questions !
Some links to follow Natasha :
www.natashawang.com
www.poleticamovement.com (50% off for first month with code POLETICA50)
Instagram @polecricket
Events :
Pole Convention: www.poleconvention.com
Pole Camp EU: //www.polecamp.eu/en
Pole in Paradise: //www.facebook.com/FFGFitforaGoddess